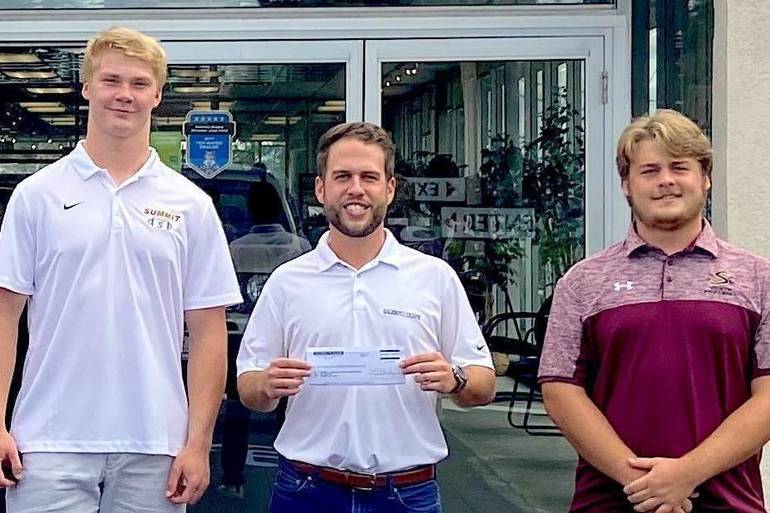 Salerno Duane Chrysler Jeep Dodge Ram, part of the Salerno Auto Group, is pleased to announce that we have given a donation of $5,000 to the Summit High School football team!
Our Sales Manager Mike Salerno personally hand delivered the $5,000 check to the Austin Groce & Charlie Wattick, who are the captains of the 2020 Summit Hilltoppers varsity team. This continues in our dealership's tradition to donate to our hometown's high school athletics program each year.
"Thank you to Salerno Duane for your donation. Your continued support will allow our team to purchase equipment and supplies critical to our season."

-Austin Groce & Charlie Wattick
We're also proud that the Summit High School football team has the prestige of having the highest winning percentage in Union County from 2010-2019. The Hilltoppers earned a record of 89 wins and 20 losses, or a 0.817 winning percentage.
The team not only qualified for the playoff every season of the past decade, but they won a total of 13 sectional games in the playoffs and 3 State Championships.
More Fun Facts About the Summit Hilltoppers
They went undefeated in 1963, 1972, 1973, 1993, 2009, 2012 & 2013.
The most points scored in a single season was 520 in 2009.
The team only allowed 24 points to be scored in the 1928 season.
In 1980, the team had 153 first downs.
They had their most yards rushing in 2012 at 3,354 and most yards passing in 2003 at 2,172.
The team won in 8 shutouts in 1976.
The longest field goal ever kicked clocked in at 49 yards in 2010.
There are 4 students who are in the prestigious 200 Career Tackles Club, all of whom played within the last 15 years.
A total of 8 players on the Summit High School football team went on to play in the NFL.