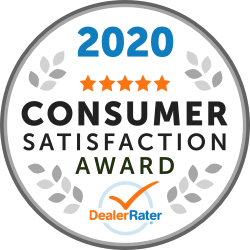 Salerno Duane Chrysler Jeep Dodge Ram, part of the Salerno Auto Group, is pleased to announce that our dealership has won the 2020 Consumer Satisfaction Award! This is the third year that we've received this honor from DealerRater.
By winning the 2020 DealerRater Consumer Satisfaction Award, we are in the top 10% of franchise U.S. car dealerships based on our PowerScore. Our PowerScore is calculated based on a Bayesian algorithm that considers our average DealerRater star rating & the total number of reviews written about us on the site during the past calendar year.
To be considered for the Consumer Satisfaction Award, we met the following qualifications:
Minimum of 25 reviews on DealerRater for the calendar year
Average minimum star rating of 4.0 on DealerRater, with 5.0 as the highest possible rating
At least 1 review on DealerRater per quarter during the calendar year
Must not have been blacklisted within the calendar year
We're proud to add this accolade to our mantle along with others we've earned over the years like the FCA Sales Growth Award and we have the loyalty of our customers, especially those who wrote a review on DealerRater, & the hard work of our staff to thank for it.

?
What Our Customers Have to Say on DealerRater
"Currently in the process of walking out with my new vehicle. Mr. Sergio Ovalle was excellent! Best car salesman I have encountered to date. He was extremely helpful, went above and beyond to get a deal made on the vehicle I loved. I would recommend anyone and everyone to him. He was extremely knowledgeable, polite and honest. Thank you for everything Sergio!"

-lindsydejesus
"Paul Shorrock and the rest of the staff at Salerno Duane were extremely helpful in assisting leasing my first car. I would absolutely recommend coming here to lease or purchase a car. There are endless options and great deals offered here!"

-skylerschack
"Easy to deal with. They understand my needs and what I can afford and they deliver. It is seldom to find an honest dealership nowadays and that is why I always come back to Salerno Duane. Thank you!"

-Juls