Huge Selection of Cargo Vans for Sale in New Jersey
If you depend on a commercial cargo van to get the job done, you've come to the right place. Salerno Duane Commercial Trucks in Summit NJ is the area's Commercial Van expert. Salerno Duane knows that each business requires a van that fits their specific needs, that is why we offer hundreds of cargo van upfit options to create a custom cargo van to meet your own particular needs. We'll analyze your business and consider your vehicle usage and needs to find the Ram cargo van that works best for you and your business. Getting the job done right is your business, finding the right solution for you is ours.
Compact Cargo Van
Ram ProMaster City – If your company relies on carrying cargo, you'll want a van that carries maximum cargo while providing superior on-the-job performance which helps your business carry more… and go more places. Providing you with the versatility you need, we offer multiple trims and body styles including; cargo van, short- or long-wheelbase, chassis cab, low top or high top roof, cutaway or window van.

Florist Shops & Delivery
Bakery Shops & Delivery
Painter Work Van
ProMaster City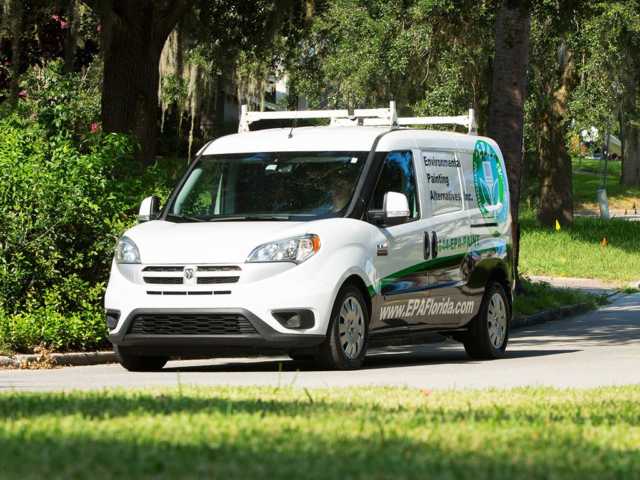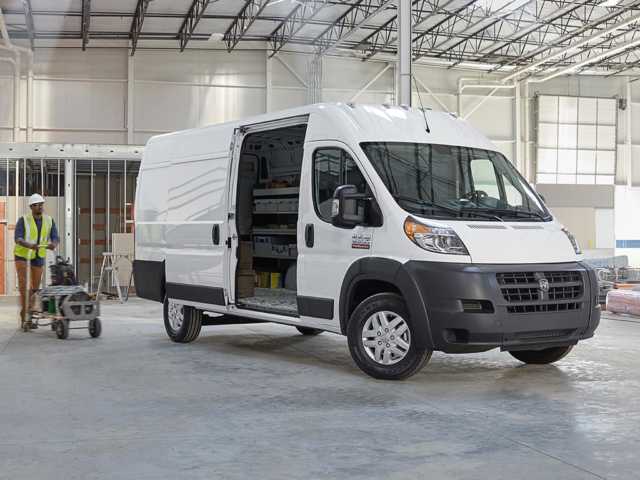 Full-Size Cargo Van
Ram ProMaster – For those who require more space, the Ram ProMaster offer the payload capacity that allows you to store all of your materials, tools, and cargo. If you still need more, the towing capacity will have you making one trip to the job site – saving you time and gas.
Construction – Contractor Van or Mobile Office
Roofer Work Van
Plumber Work Van
Electrician Work Van
Delivery Van
Pool Repair Work Van & Supply Delivery
Flooring / Tile Contractor's Van
Ram ProMaster
Custom Cargo Van Upfit Options in NJ
From shelving units, racks and bins to no up fit at all to offer you maximum cargo space, Salerno Duane Commercial Trucks can fit your individual needs. When you want a van, you want one that is Upfit friendly that allows you to adjust to the constant change of your equipment and cargo. You can equip your RAM ProMaster van with everything from available rooftop ladder racks, literature holders and storage cabinets to dividers, double floors, drawers, cargo management packages and more. Versatility is important and adjustable shelving, racks and bins can help you stay organized while adjusting to your daily change of needs. And quality manufacturer brands lets you know your using quality, premium grade materials.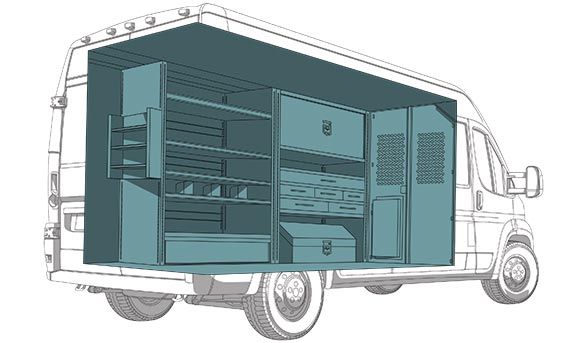 Contractor Van Upfit
From plumbing to carpentry to HVAC and more, trades interior upfits turn your van into a mobile workshop and warehouse. With everything from customizable shelving and tank storage to hardware holds and tool benches, your tools and inventory are never far from your worksite.
Painting
Plumber
Carpenter
Construction
Locksmith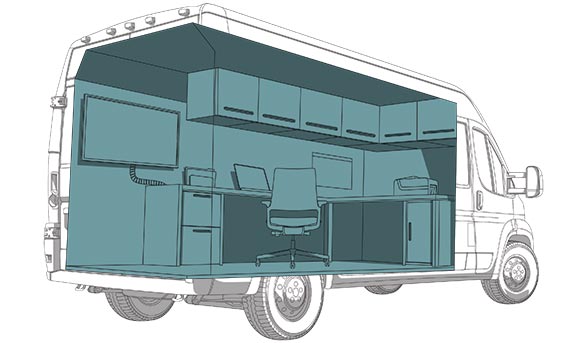 Mobile Office Van Upfit
Sometimes getting your business moving requires actually working on the road. Luckily, our vans have what every business needs: space, power and capability.
Emergency
Law Enforcement
Construction Site Foreman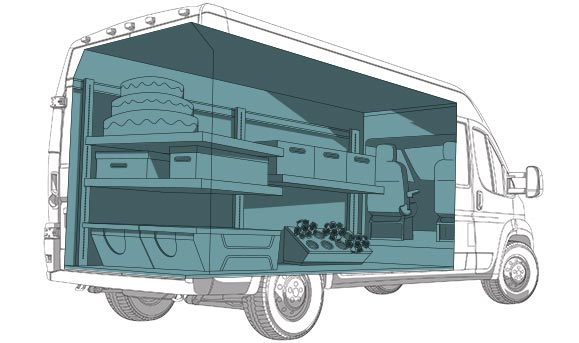 Delivery Van Upfit
Whether delivering heavy appliances or elegant bouquets, delivery upfits require easy access, impressive performance features and the hardworking capability to drive all day, every day for years to come.
Delivery Services
Florist Shops
Catering Truck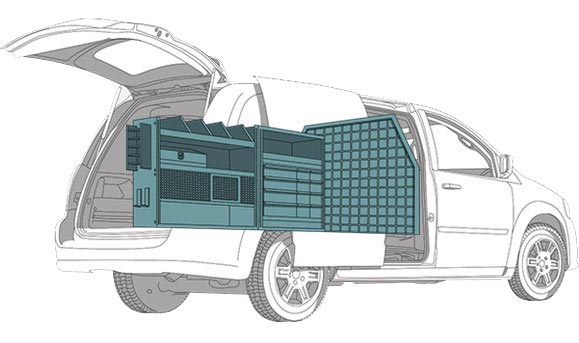 Compact Van Custom Trades Upfit
From painting to plumbing to carpentry and more, the Ram C/V Tradesman® and Ford Transit Connect boast an interior primed for customized shelving and storage rack upfits. The newer Ram ProMaster City offer a seemingly limitless list of options and configurations.
House Painting Companies
Plumbing & HVAC Services
Home Improvement & Handyman Service
Locksmiths & Garage Door Repair
House Cleaning Services
Custom Cargo Van Upfits from Top Manufacturers

Sortimo® Van Racking Solutions
Sortimo offers a unique, light-weight, micro-modular, in-vehicle equipment system that is customizable. Van packages illustrate the system's flexibility by adding features to the basic configuration. Utilizing unique components and accessories in an ergonomically designed system.

Weather Guard® Van Storage Equipment
In van equipment, Weather Guard offers an expansive line including knockdown shelving, small and medium size parts bins, expanded ladder rack offerings and also an expanded bulkhead offering.

Adrian Steel® Cargo Management
Adrian Steel provides flexible and dependable storage solutions for cargo vans. Interior packages combine rugged durability with lighter weight construction for optimal cargo capacity.
Reading® Chassis & Cutaway Service Bodies
Reading service vans and panel bodies protect your tools, cargo, equipment and crew so you can stay hard at work through any weather. An enclosed body also lets you lock down your work area quickly and easily whenever you need to.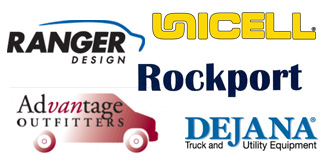 Plus Many Others!
Salerno Duane also offers upfits and storage products from several other leading manufacturers. We can custom upfit your Ford or RAM cargo van with products from Ranger Design, Advantage Outfitters, The Welding Shop, Unicell®, Dejana® and Rockport. Contact us today if you're looking for specific components!
Commercial Truck Customization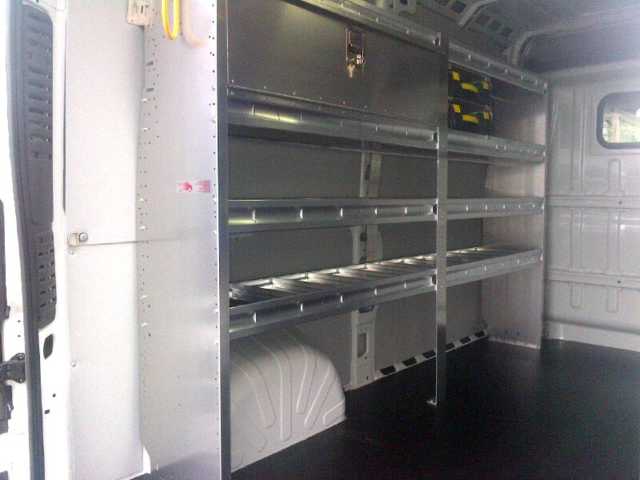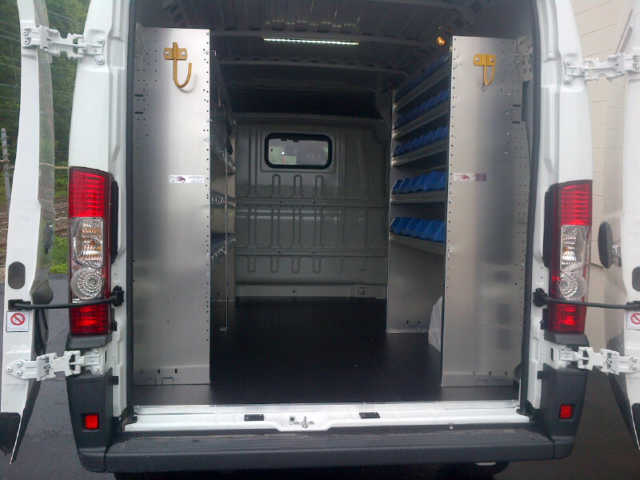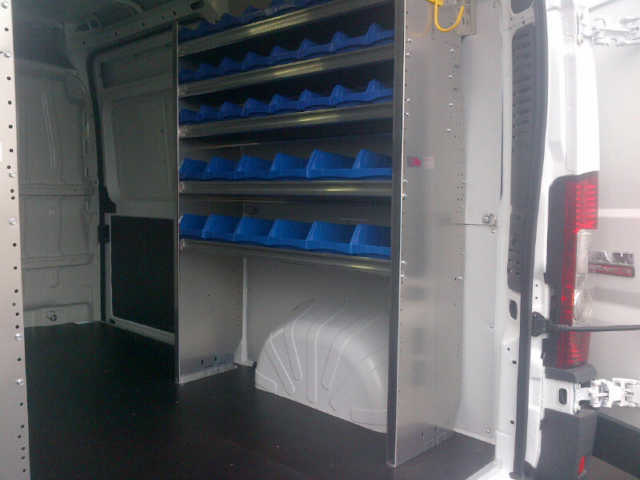 Ram ProMaster All-in-One Contractor's Package
We call this the All-in-One Contractor's Package. It consists of everything a contractor needs to get the job done. With this awesome upfit, you get a Composite wood floor, Composite side walls, 2 foot led light bar, 2 complete steel racks on left side with shelves and 1 lockable cabinet, 1 complete steel rack on right side complete with bins that are removable, and 1 large hanging hook on each shelf at the rear of van. Do you have specific Contractor's vehicle needs? Give us a call to find out about our Custom Work Trucks!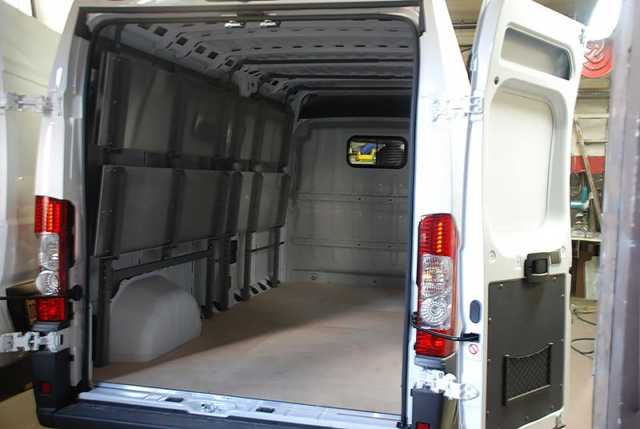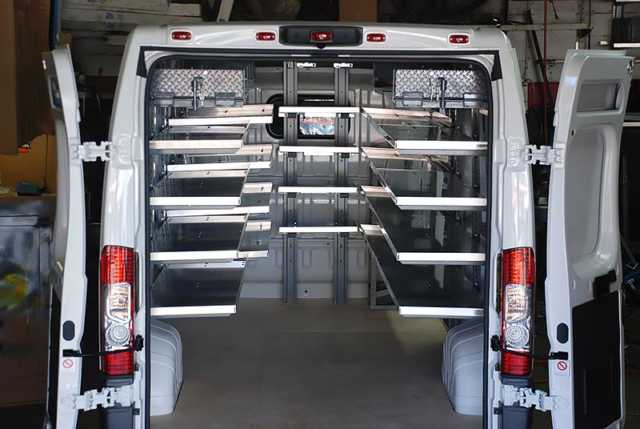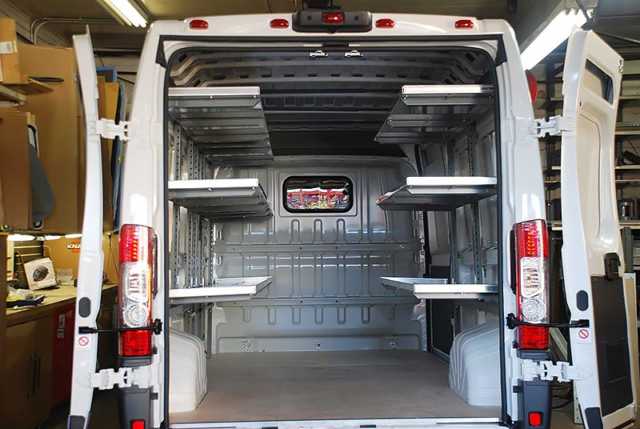 Ram ProMaster Van HVAC Upfit
In the HVAC Custom Work Trucks upfit, the shelving goes completely around the inside of the entire van and all the shelves will have bins in them that will be numbered, so as to have the ability to completely control parts and inventory for the company. At the top of the shelves are pipe racks for all different types and lengths of pipe and on the side door opening toward the front are bottle holders (4) of them for associated tanks used on the job each day, plus a step has been added at the back of the truck as well. Have any other HVAC needs? Just ask!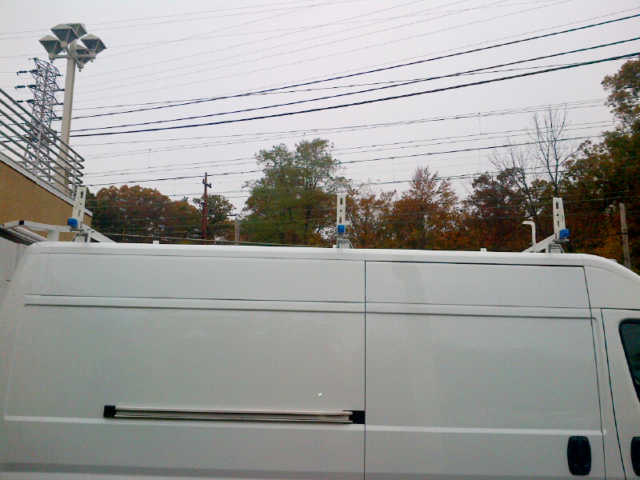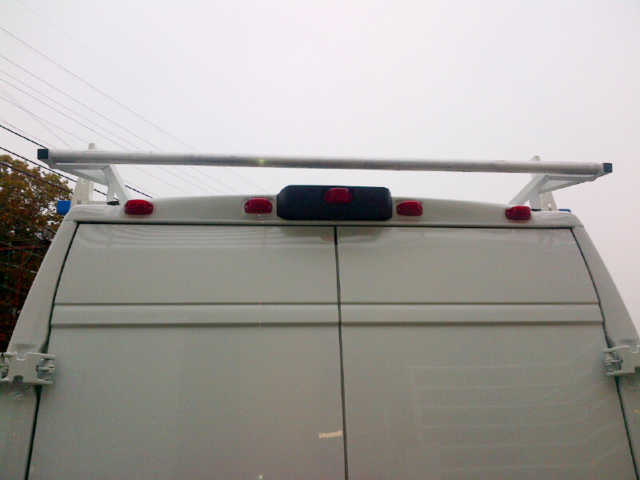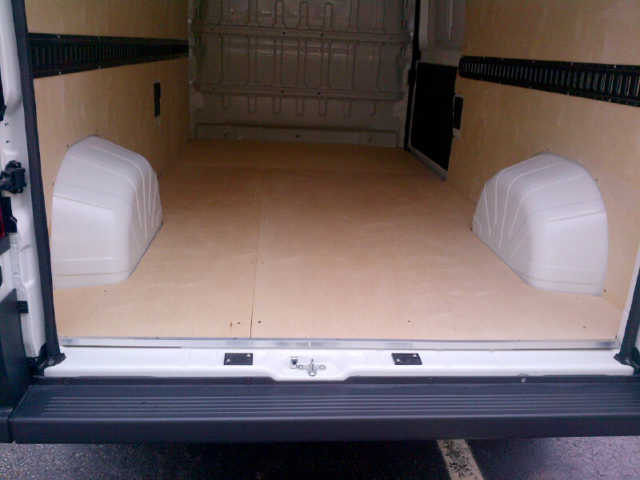 Ram ProMaster Contractor's Utility Package
We call this the Contractor's Utility Package. It consists of an Adrian Steel 3 bow ladder rack with roller, A Maple wood floor, Maple wood side walls, with one row of E track down the sides. Do you have specific Contractor's Custom Work Trucks needs? Give us a call!
Salerno Duane Also Carries Passenger Vans & Livery Vehicles
When your business is built around people, you need a vehicle that's designed around safety, security and comfort. From specialized school buses to elegant employee transports, livery upfits require nimble handling, impressive performance and commercial-grade safety and security features. Of course, cost-saving design and impressive capability certainly help. When shopping for a Ford passenger van for sale in NJ, Salerno Duane is your destination! We also have a large selection of RAM passenger vans for sale in NJ every day on our lot.
Customizable Features
Short- or long-wheelbase
Flexible Seating Configurations
Maneuverability
Passenger Vans for:
Taxi Service
Limo Rentals
Custom Party Buses
Hotel Shuttles & Hospitality
Senior Care & Disability Transports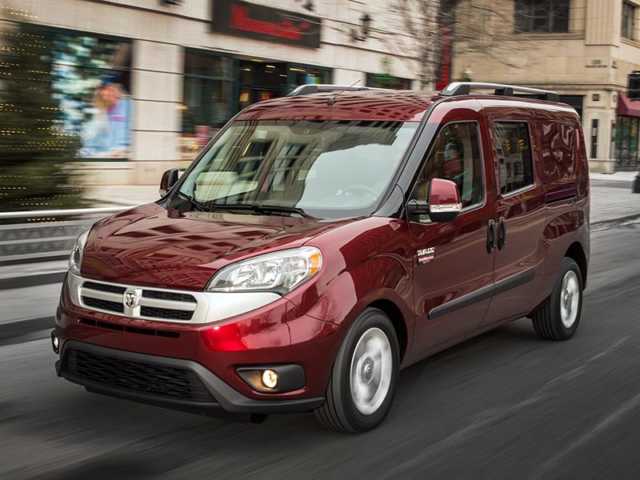 Van Finder
Tell us what your van needs are and we will locate and configure the perfect van for your business.