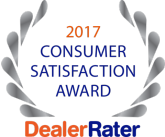 2017 Award Winner
We're a proud recipient of the DealerRater award! More info
Great experience getting a car from Salerno Duane ! It was a pleasure working with Bill, he was extremely professional and helpful, answered all my questions. I highly recommend him to anyone who is looking to buy a new car without the hassle. Definitely THE best dealer experience I have ever had, he was excellent !!!
Reviewd by Ann GonzalezSource: Google
If you're heading to this dealership, ask for Sean Stevens. He's straight to the point and honest. Very good service and got my new car within 2 hours of arriving at the dealership. Highly recommend this place.
Reviewd by Crystal SantinSource: Google
Amazing people and an excellent service ! Very friendly and were straight up with what they can help you with. Mike, Michael & Henry are fantastic!
Reviewd by Vanessa CaleirasSource: Google