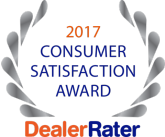 2017 Award Winner
We're a proud recipient of the DealerRater award! More info
Great dealer, Paul Shorrock makes car shopping easy and fun!
Reviewd by Samantha PalmaSource: Google
Rafael Rios took care of us as soon as we arrived at Salerno Duane Jeep- he presented us with different vehicle options until we found the perfect Grand Cherokee. The lease process from beginning to end took less than 2 hours. Each person at the dealership is friendly and professional; the dealership clearly focuses on keeping a high level of customer satisfaction. For instance, I will point out that Rafael called us the next day, to check-in and make sure that we were comfortable with our ride home in the Grand Cherokee. I was thrilled to have this level of personalized care.Once the plates arrived at the dealership, Rafael came out to put it on the jeep himself. Based on the personalized attention received, I would not go anywhere else... you have a new faithful client. Thanks Salerno Duane, and thank you Rafael for providing us with great customer satisfaction.
Reviewd by DeeWSource: Cars
My experience here was great! Sergio and the staff were extremely helpful and polite. They helped me find the perfect car and I couldn't be happier.
Reviewd by NoeSource: Cars