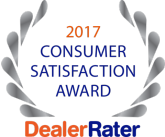 2017 Award Winner
We're a proud recipient of the DealerRater award! More info
First time Jeep buyer.Salesman Sean was very patient in helping me compare jeep models . Settled into a Wrangler Sport new JL model . Car sells itself !!!!
Reviewd by John FerraroSource: Google
They are fantastic people. My salesman Bill was very professional, caring, very patient & knowledgeable. He answered all my questions and concerns. Great Dealer.
Reviewd by Sonia RodriguezSource: Google
My husband and I saw a used Jeep online and traveled 2.5 hours to NJ from CT to buy it! We loved it as soon as we saw it. We had a great experience with our salesperson Bill. Would recommend!
Reviewd by Vickie Mayer BellSource: Facebook