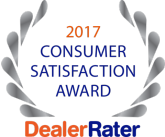 2017 Award Winner
We're a proud recipient of the DealerRater award! More info
We had a great experience here. Not pressured - well informed on our options. It was a very efficient process. Very recommended.
Reviewd by Regina StrattonSource: Google
Recently leased a new Durango from Salerno Duane Chrysler Jeep Dodge. Our salesman was Bill Bisson. We got the vehicle we wanted for a great deal with no hassles. Highly recommended.
Reviewd by vincent dSource: Google
Hi ,Dodge Challenger GT AWD.I was looking for car past one month and went three dealer place (beyer Morristown, east over dodge and little falls dodge dealer ). I had very bad experience with them in treating the customer ,even though as I am interested in dodge to buy I went again to same dealer to buy still they treat me like I am not buying.Then I took break for one week in browsing the car after that I just tried why don't I go little far to my place then I found SALERNO DUANE summit dealer name Ruben morales , at first I had call with him to explain what I really required then in very cool way he explained everything and made me to come in.Trust me with less than hr we end up deal ( a really good deal).Ruben morales way of approaching and explaining about car is really good and he treat me like his friend buying car.And later he explained me about car interior features in very patience way to understand everything very very clear And he completely took care of transferring my insurance and completing all paper work etc .One more thing I did trade my Honda Civic car too here with good deal compare to all other dealer trade in value So overall dealing with Ruben morales is very friendly and easy to get what we really need.All credit goes to RUBEN MORALES 5 star for Ruben morales 5 star for summit dealers( as they are very friendly )
Reviewd by Cheekoti Sai KrishnaSource: Google