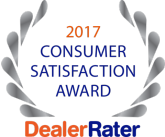 2017 Award Winner
We're a proud recipient of the DealerRater award! More info
The team at Salerno was fantastic! I went in to buy my first car and they helped me through every step and I got the car I wanted. Sergio was great to work, he was personable and extremely helpful. He even stayed late to help teach me the new technological features of my car. Throughout the day he ensured we were completely happy. I would recommend Sergio and Salerno Duane to anyone interested in purchasing a new car.
Reviewd by Laura KircherSource: Google
Sean Stevens was my sales rep. I came in and he worked hard to get me the deal I wanted when i walked in. I highly recommend him when you come to Salerno Duane
Reviewd by brandon olshvangSource: Google
Love my new Jeep Compass! Thank you so much Kire for everything!
Reviewd by Gina MasoneSource: Google