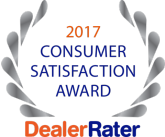 2017 Award Winner
We're a proud recipient of the DealerRater award! More info
Rafael was super helpful, and he got me hooked up with the exact Sahara model I wanted. He got answers to all of questions, and he made sure I had a chance to speak to all of the right people to make my experience with Salerno Duane a great one.
Reviewd by Jon DarioSource: Google
The team at Salerno was fantastic went in and got the exact car we wanted. Rafael was great to work, he was funny and extremely helpful. He even stayed late the day we came to pick up the car and was extremely under the weather but he waited with us until all the paper work was complete and ensured we were completely happy. GREAT TEAM thank you for everything. We will recommend and will be back for our next purchase in the future.
Reviewd by Karen DominguezSource: Google
Sean Stevens did an incredible job. He made the process easy and painless. He also went above and beyond to ensure I understood the deal top to bottom! Excellent experience!
Reviewd by Anthony StevensonSource: Google