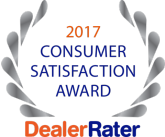 2017 Award Winner
We're a proud recipient of the DealerRater award! More info
Salerno Duane dealer was awesome to deal with. Everything was easy and Sergio Ovalle was great to work with. The price on the vehicle was fair as well.
Came in to lease a Jeep Wrangler. Met with George who made the entire process painless. Highly recommend George and appreciate his professionalism during the entire process.
Reviewd by Brandon LinkerSource: Google
See Paul Shorrock! He'll make it happen for you! Thanks Paul!!!
Reviewd by Mariline RosarioSource: Google