2015 Dodge Durango Available at Salerno Duane Summit.
Normally when choosing a vehicle, you have to choose between performance or efficiency, however that's not the case with the 2015 Dodge Durango in Summit, New Jersey. You can have the best of both worlds, with added comfort, technology, safety and you'll be showing up in style while you're at it. It's the 2015 Dodge Durango and it's here at our Dodge dealership in Union County NJ!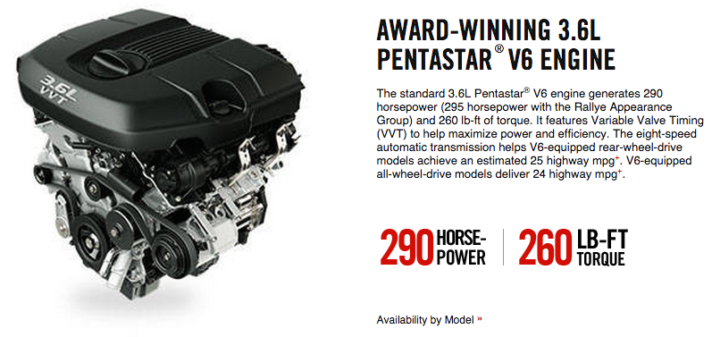 Best of Both Worlds
You can choose what powers your 2015 Dodge Durango, be it the award winning 3.6L Pentastar V6 that delivers 290 horsepower and 260 lb-ft of torque and scores 25 highway MPG, or the majestic 5.7L HEMI V8 that delivers an astonishing 360 horsepower and 390 lb-ft of torque, and still gets 23 highway MPG. Whichever power house you choose, you'll have plenty of towing power. With the 3.6L Pentastar, you can tow up to 6,200 lbs and the towing capability jumps to 7,400 lbs with the 5.7L HEMI.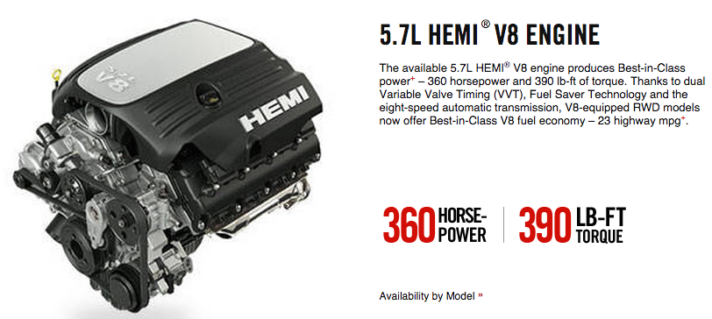 Here in Summit, New Jersey, the 2015 Dodge Durango features a near 50/50 weight distribution thanks to the engine up front, and the drive axle in the rear. Because of this, during acceleration, the weight will shift to the drive axle to not only increase downforce but improve traction as well. Looking to make the 2015 Dodge Durango your chariot for towing? You'll love the Trailer Sway control for added stability, regardless of what you're hauling!

2015 Dodge Durango: Why Settle When You Can Splurge?
It's the perfect daily driver, but it's also perfect for when you want to get out and take a road trip! Featuring an interior that's made to look and feel luxurious, that's also full of all the technology you could want and need, you'll fall in love with the 2015 Dodge Durango in Summit, New Jersey! It features 10 seating options, and whether you prefer leather or cloth, black, red or tan, you're bound to find your match.
As far as seating goes, you can seat up to 7. If some of those seven include children, you'll definitely want to consider the the rear Dual Screen Blu-Ray and DVD Entertainment system. Kids can even play games by connecting their consoles, and the screens fold down in the seat to remain scratch free.
You as the driver are in full control and you'll really feel the power with the 2015 Dodge Durango because you'll have all the controls right at your fingertips on the steering wheel. Even more control will lie in deciding the destination on your Uconnect Touchscreen Navigation System. Keep your eyes on the road the whole trip thanks to the Integrated Voice Command and Bluetooth!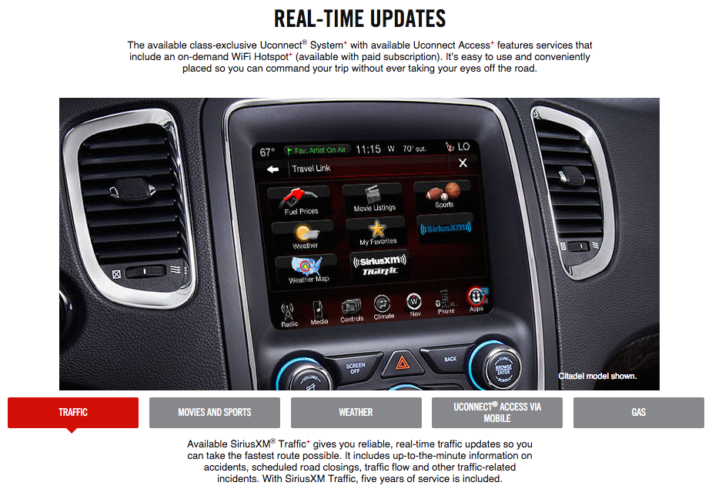 2015 Dodge Durango: Safe and Secure
Get there safe and sound, because in Summit, NJ the 2015 Dodge Durango can be equipped with over 60 standard and optional safety features. There's no better feeling than driving with confidence, especially when anything can happen. Features like Forward Collision Warning with Crash Mitigation, Back Up Assistance, Advanced Braking Technology, Blind Spot Monitoring and more will help to alert you of danger, and should anything happen, your Uconnect Touchscreen features Emergency and Roadside Assistance. We take you and your family's safety seriously, so does the 2015 Dodge Durango.
There's so much more to know about the 2015 Dodge Durango in Union County, New Jersey, so come see us here at Salerno Duane Summit to learn more and take one for a test drive yourself!