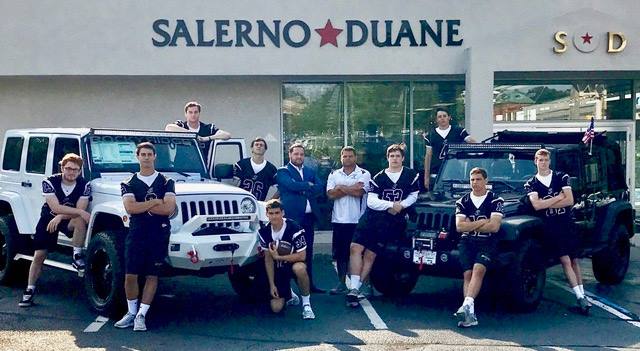 We are proud to be part of the community in our hometown of Summit, New Jersey. That's why we decide to donate money to the Summit High School football team!
We contributed to the Summit High School football program to ensure that the kids who want to play on the gridiron get everything they need to increase their chances of being successful next season.
We were surprised and honored that Summit High School football head coach Kevin Kostibos and the team captains for the 2017 season stopped by to personally thank us for our donation. You're welcome guys and good luck on the field!
Fun Facts About the Team
They went undefeated in 1963, 1972, 1973, 1993, 2009, 2012 & 2013.
The most points scored in a single season was 520 in 2009.
The team only allowed 24 points to be scored in the 1928 season.
In 1980, the team had 153 first downs.
They had their most yards rushing in 2012 at 3,354 and most yards passing in 2003 at 2,172.
The team won in 8 shutouts in 1976.
The longest field goal ever kicked clocked in at 49 yards in 2010.
There have been 4 occasions when 3 interceptions were made by the same player in 1 game.
4 team members have scored 30 points in a single game in different seasons.
3 players have scored 5 touchdowns in 1 game, beating Al Bundy's prestigious 4-touchdown achievement.
There are 4 students who are in the prestigious 200 Career Tackles Club, all of whom played within the last 10 years.