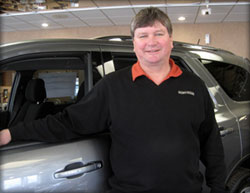 Summit, NJ – Paul Shorrock, an unassuming Certified Sales Professional for Salerno Duane Chrysler Jeep Dodge in Summit New Jersey, has been recognized for his outstanding Sales Performance for the calendar year 2010 by Chrysler LLC. Shorrock earned the rare distinction of being one of the Top 50 sales professionals (he was number 47) among approximately 13,000 sales professionals selling Chrysler, Jeep, Dodge & Ram products across the nation.
"When it comes down to it, I really enjoy selling cars," said Shorrock. I get my satisfaction when I deliver a vehicle and see a happy customer. It's as simple as that. I treat people the way I would like to be treated being completely honest with them from start to finish….no matter the outcome."
Shorrock came to Salerno Duane of Summit in 2009 after serving seventeen years at Bigelow Motors in Belleville. "If they hadn't closed their doors at Bigelow I would probably still be there," said Shorrock, "because that's just the way I am. " "But I am thankful of the fact that I had the chance to come to Salerno Duane and work for such a family oriented organization. Chip Duane, the principal here, provides a very nice work environment for all of us."
Shorrock, born in California and raised in California and England, started his professional working career in Wine Sales in Napa Valley, California. He started selling cars in 1993 and hasn't looked back since. "I achieved silver sales status my first year," said Shorrock, but moved onto Certified Gold Status in 1995….I've been at that level ever since.."
Shorrock is married with a son and step daughter, He, along with his wife Patricia, live in Whippany. "Hey, I work hard and put in a long day,"admitted Shorrock, "but I enjoy my life at Salerno Duane and I enjoy my customers. I also enjoy going home to my wife at night and having a nice cold one waiting for me."
Salerno Duane Chrysler Jeep Dodge along with Salerno Duane Ford and Salerno Duane Commerical Trucks are part of the Salerno Duane Automotive Group and are located on Broad Street in Summit.
To contact our dealership, you can call us on one of the following numbers:
908-517-4098
908-679-9859
908-988-0272
908-988-0546
908-988-2153