2017 Chrysler Pacifica Minivan Wows!
The 2017 Chrysler Pacifica Minivan is coming to Union County, Central New Jersey and it's ready to wow you and your family with all the space, features, and technology it offers! This minivan was completely redesigned in order to bring full functionality and convenience to you. It seems that everything about this minivan is improved, so check out what it has to offer!

Brand-New with a Hybrid Version…
The new design for the Pacifica minivan includes a quieter ride with reduced noise and vibration. Its body is sturdy yet light, contributing to the improved fuel economy as well as an aerodynamic structure that's both aesthetic and functional.
With Active Noise Cancellation (ANC) standard on every model of the Pacifica minivan, you and your family can enjoy a smooth, quiet ride. The hybrid version of the Pacifica—its first hybrid vehicle—delivers on the equivalent of 80 MPG in the city! If you'd still prefer the gas model, you'll get the 3.6L V-6 engine with 287 horsepower and 262 lb.-ft. of torque. Save even more gas with standard start-stop technology!
This muscled van also has an optional panoramic sunroof, unique badging, and a longer wheelbase, helping it to remain more secure and easier to access than ever.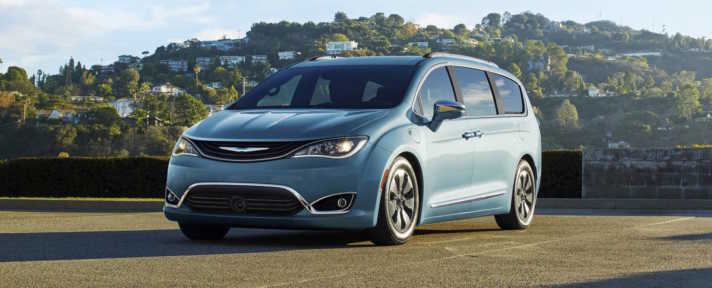 Safety Technology for the Whole Family.
When you're looking for safety features, you've got options with the new Pacifica minivan for 2017. There are over 100 safety features, both standard and optional. The following are just a few of the safety features that the Pacifica offers:
Surround View Camera. Four different cameras give you a 360-degree view.
ParkSense Park Assist. With both parallel and perpendicular parking help, you can never be too safe.
Forward Collision Warning. The 2017 Pacifica minivan can sense a crash and helps you respond appropriately.
Lane Departure Warning. Lets you know when you're leaving your lane and keeps you in your lane when needed.
Blind-Spot Monitoring. Always know when a vehicle is in your blind spot.
For technology, you'll get an 8.4″ touchscreen with UConnect in addition to a rear entertainment system. Let your kids watch movies, play games, or even get on the Internet. With two different 10-inch touchscreens, you're ready to travel with technology in the Pacifica.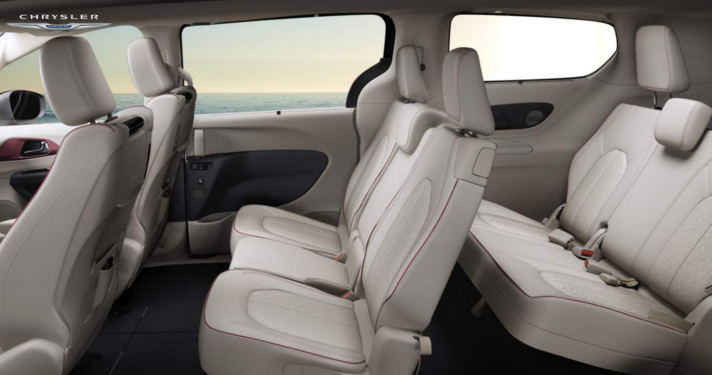 Space, Seating, and Storage.
The 2017 Chrysler Pacifica offers what no other minivan does—five different seats are able to include the LATCH safety seats for your children. You also get seating for up to eight in this minivan! With heated and ventilated seats, everyone will be happy for your ride.
With an integrated vacuum, Stow 'n Go storage, and easy seat folding at the touch of a button, you'll have access to every possible inch of storage in your 2017 Pacifica minivan as well as keep everyone safely seated for the ride. The sliding doors as well as the lift gate are hands-free!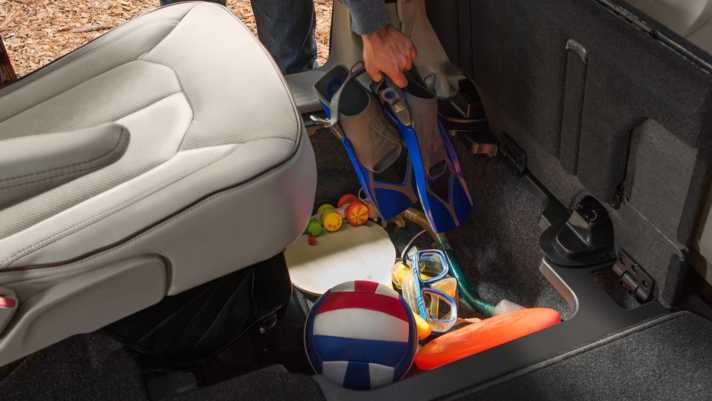 Available in 5 different models for your choosing along with two hybrid models, the 2017 Chrysler Pacifica will be ready for you to come and test drive with us at Salerno Duane later this year. This minivan impresses and perhaps is the best in its segment—visit us in Summit, New Jersey to check them out!