Jeep Renegade Hard Steel Concept With Matching Trailer.
Over 2.7 million subcompact SUVs are sold around the world each year. With Kia and Nissan taking credit for the majority of these sales with their popular Soul and Juke models, Jeep often falls short when it comes to compact SUVs. But what the Soul, Juke, and many other urban crossovers don't have is off-roading capabilities. That's where the Jeep Renegade has the leg up. The brand new Renegade incorporates the look and feel of a subcompact SUV while providing the strength and durability that Jeep vehicles are known for.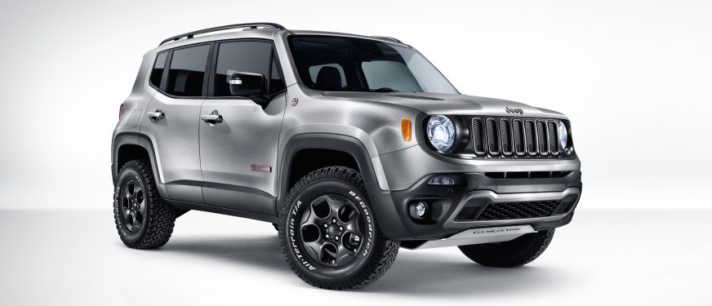 Jeep Renegade Hard Steel Concept Revealed at Geneva Auto Show.
The long-awaited Jeep Renegade Hard Steel concept was finally revealed at the Geneva Auto Show. Based off of the Trailhawk model of the Renegade, the Hard Steel concept has a similar look, with a brushed steel livery contrasted by black trim and a comfortable, attractive interior. Like the Trailhawk, the Hard Steel concept's interior features cozy leather seats and the same brushed steel finish on the glove box, speakers, vents, and shifter.
Jeep Renegade Now Comes With a Matching Trailer (Maybe?).
While the car is remarkable on its own, the most talked about part of the Jeep Renegade Hard Steel concept isn't really part of the car at all. Jeep decided to create a matching trailer with the Renegade to make up for the SUV's smaller cargo load. Now, this isn't your typical U-Haul attachment. The Jeep Renegade Hard Steel's trailer mimics the back of the car astonishingly well with everything from the brushed steel exterior to the identical bumper and headlights.
But it doesn't end there. While this matching trailer is more appealing than the typical trailer, it's also more versatile. On top of the visually appealing storage space, the Renegade's trailer also includes a giant touchscreen with Chrysler's Uconnect infotainment system. The trailer includes:
Wi-Fi hotspot
Online services like Tune-In Radio
Real time traffic updates
Access to social media
Jeep hasn't discussed the details of selling the trailer just yet, but it would be a great addition for those looking for more cargo space as well as entertainment.
Contact Us to Learn More About the Jeep Renegade Hard Steel Concept.