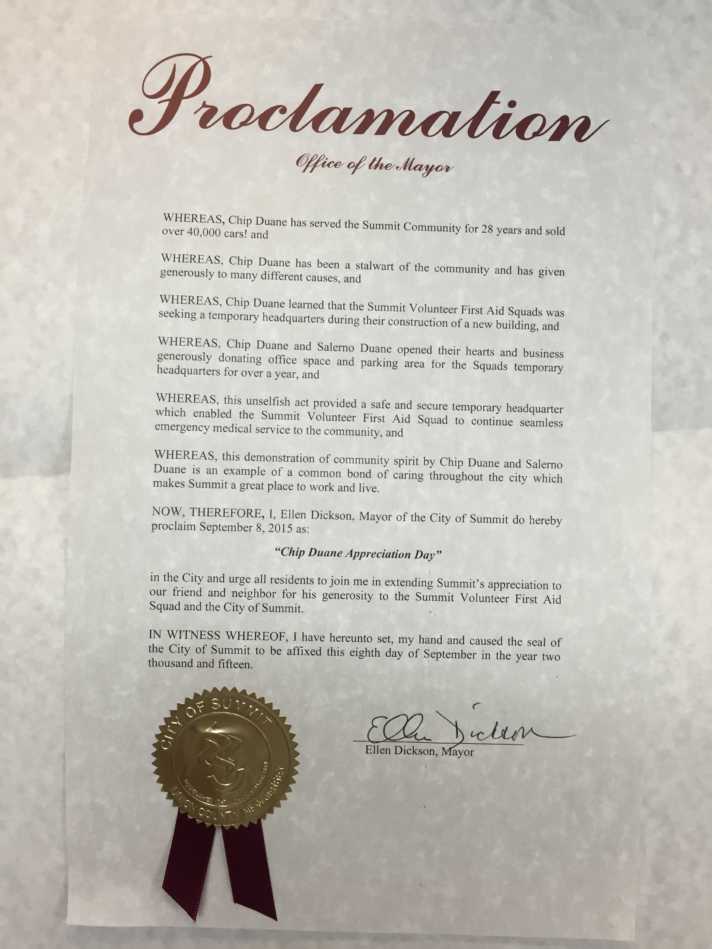 Everyone here at Salerno Duane Chrysler Jeep Dodge is so proud that Ellen Dickson, the Mayor of our hometown of Summit NJ, declared that today September 8, 2015 is Chip Duane Appreciation Day!
Receiving this letter from the City of Summit made our entire team feel so grateful to hear such kind words about where they dedicate their careers to. We work hard for the residents of our community as both a car dealership and an organization who gives back to those people in need.
We didn't give it a second thought when the Summit Volunteer First Aid Squads needed help because of how hard they work for our community. We wanted to make the volunteers' job a little easier by giving them the space they need to help them perform their duties.
We're truly humbled that Mayor Dickson made today Chip Duane Appreciation Day. We want to thank her, as well as everyone else who has extended their appreciation for Chip Duane. It doesn't matter if you're a part of the Summit Volunteer First Aid Squads, work for the City of Summit or are one of our valued customers living in or near Summit.
We're eternally grateful to be a part of a community full of caring people.