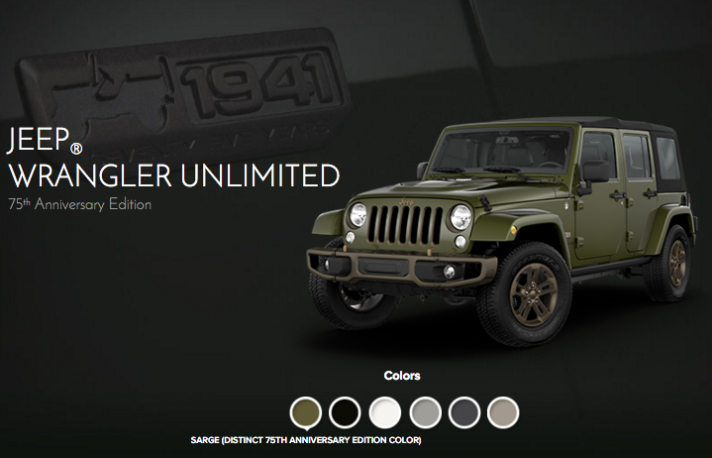 Get ready to celebrate Jeep's 75th anniversary with the 2016 Special Edition Wrangler Unlimited! This vehicle's got all the updates for 2016 with a unique exterior and interior, including a custom paint color for the anniversary edition.
Let's explore some of the unique features of the Wrangler Unlimited for Jeep's 75th Anniversary!

Custom Exterior Design Features.
One of the most unique things about the 75th Anniversary Wrangler Unlimited is the exterior. From its custom green color (appropriately called Sarge, as this vehicle shares a similar design with the Willys used in WWII) to its bronze wheels and orange accents, the Wrangler doesn't get any more custom than this.
You'll get 75th Anniversary Edition badging on the outside as well as interior stitching on the seating. The bronze accents are on the wheels, the grille, and the bumpers. They're combined with orange to create a sharp look.

This 2016 Wrangler Unlimited also comes with a power dome hood, which was created to honor the fact that the hoods of the Willys used in WWII were used for just about everything. Your power dome hood will do the same! You'll also get 17-inch aluminum wheels in bronze with Goodyear all-season tires.
The Wrangler Unlimited 75th Anniversary Edition also includes body-color fender flares, front and rear bumpers, Command-Trac 4×4, and heavy-duty suspension. This Trail-Rated Jeep is ready to go!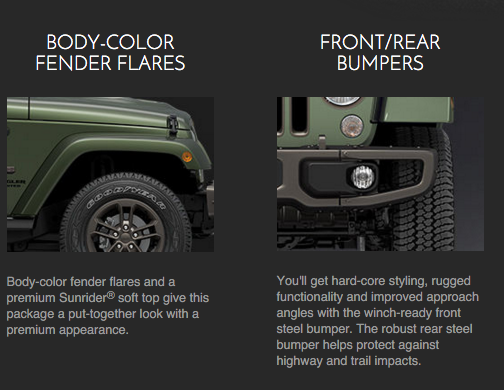 Other Unique Features
Your Wrangler Unlimited 75th Anniversary Edition also comes with skid plates, the classic wash-out interior, and a 3.6L V6 engine. The interior is designed to combine the best of the ruggedness of the Wrangler with the refinement you want in an SUV—with innovative storage space, reduced interior noise, and even heated seats and LED lights.
You'll also have the option of having an electronic rear locker along with a storage compartment in the center console that can be locked for extra security. With an Alpine Premium Sound System, you'll almost feel like you're in a luxury SUV. Except, of course, this Jeep was born to off-road!
Its off-roading features include a reinforced underbody with skid plates and tow hooks in the front and rear for when your buddies get stuck. The standard fog lamps with halogen lights ensure you'll always see where you're going in your 2016 Wrangler Unlimited.

Only the Best from Jeep!
With 285 horsepower and 260 lb.-ft. of torque, your 2016 Wrangler Unlimited 75th Anniversary Edition is ready for any adventure you can think of. With up to 21 MPG, the Wrangler offers competitive fuel mileage for its class. It also comes with such technology features like hill descent control and hill start assist. This Wrangler is designed to handle any terrain whether it be snow, mud, rock, or sand.
Of course, the 2016 Wrangler Unlimited comes with electronic stability control, tire pressure monitoring, and a Uconnect navigation system. With the option to take the top off—which virtually no other SUV offers—the Wrangler includes something for everyone and pursues the dream of truly unlimited off-roading. Which is definitely something to celebrate after 75 years!
Let's not forget that the Jeep Wrangler has one of the best resale values among any vehicle, retaining nearly 60% of its resale value after a five years of use. You'll love the new Wrangler Unlimited, so schedule your test drive today!