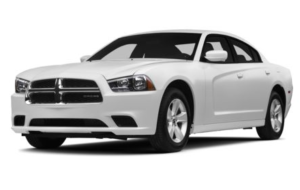 Our Salerno Duane Summit dealership has the 2014 Dodge Charger in stock now! Learn what our Salerno Duane dealership thinks of the new 2014 Charger, its pros, cons and whats new for this year's model!
Just by first look, if you like the 2014 Dodge Charger's bold styling wait until you see what else this full size sedan has to offer. We think the 2014 Dodge Charger is an awesome all around car at a great price.
What you'll like about the 2014 Charger:
The 2014 Charger has a smooth yet well controlled drive. We also love the big interior with quality materials, a V8 engine, available all wheel drive and options upgraded tech features like a touch screen interface.
What you may not like about the 2014 Charger:
Driver's may not like the like the 2014 Charger's fuel economy unless they have the eight-speed automatic and a little bit less legroom then some of the other full size sedans in its class.
If you are interested in the 2014 Dodge Charger in Summit view our Salerno Duane Summit Charger inventory. Stop by our Salerno Duane dealership and test drive the 2014 Dodge Charger to see how your feelings about this model reflect our review!